Aeternus guides Uitgeverij Unieboek | The Spectrum when purchasing from Forte Uitgevers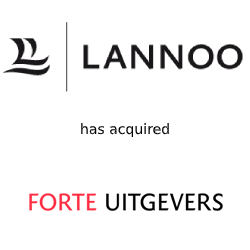 Publisher Unieboek | Het Spectrum, one of the largest general non-fiction and children's book publishers, will take over all activities of the independent non-fiction publisher Forte Uitgevers as of 1 January 2021. Aeternus supervised Uitgeverij Unieboek | The Spectrum with the purchase of Forte Uitgevers.
'In the current reality, there is much more demand for books about activities in and around the house. It is an area in which you see a continuous demand for qualitative, inspiring and informative books. Forte is an important player in this and we are therefore happy and proud that we can soon welcome all the great authors and the highly experienced Forte team to the Mondriaan Tower. Although it will initially be mainly virtual. ' said managing director of Uitgeverij Unieboek | The Spectrum Yrja Danner.
Owner Koos van Beusekom of Forte Uitgevers: 'We are delighted that we have joined Unieboek | Het Spectrum have found such a good partner. This takeover ensures continuity for the publisher and its staff. I myself will enjoy my retirement, in the reassuring knowledge that under the new wings, work can continue on the expansion of the various imprints.
About Unieboek Publishers | The Spectrum
Publisher Unieboek | Located in the Mondriaan Tower in Amsterdam, Het Spectrum is one of the largest publishers in the Dutch language area of ​​general books with over 50 employees. The publisher is known for successful publications in the field of non-fiction, children's books, travel guides and reference works. UBHS is part of LannooMeulenhoff bv, which also includes publishers TerraLannoo and Meulenhoff Boekerij. Together with Uitgeverij Lannoo nv and DistriMedia nv, LannooMeulenhoff bv forms the Uitgeverij Lannoo Groep.
More about Uitgeverij Unieboek | Het Spectrum: http://www.unieboekspectrum.nl/
About Forte Publishers
Forte Uitgevers has been active as a publisher of creative books since 1 January 2000 and has a strong position in that market. Over the years, the Forte Culinair and Forte Groen funds have been added to it. The sale and distribution of the Forte fund in Flanders has been going on for many years through Uitgeverij Lannoo.
More about Forte Uitgevers: https://www.forteuitgevers.nl/