DHT, our Norwegian Partner, advised the shareholders on the sale of Easify AS to Visolit AS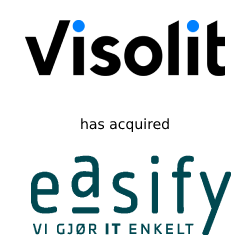 Easify AS is particularly strong in Drammen and the old Buskerud area. Closeness to the customer is important to us, and Easify has long and good relationships with its customers. We want to be close to our customers so that our solutions and advice are as relevant as possible, says Visolit's CEO, Terje Mjøs, in a message from Visolit.
Easify has offices in Drammen and Kongsberg, and provides IT services related to operations, infrastructure, security and consulting services – in addition to solutions within printing, meeting rooms and payment.
– Cloud services give customers many new innovation opportunities and accelerate customers' journey of change. With Visolit on the team, Easify`s ability to handle customers' cloud travel is now strengthened, says Mjøs.
We chose Visolit because we keep close to our customers, at the same time as we get a strong partner behind us who has the industry knowledge and customer experience from a larger professional environment. Customers want to take advantage of the innovation opportunities in the cloud and are especially more concerned about security. Visolit strengthens our ability to deliver on these customer requirements, says Erik Godard, partner in Easify AS, in the message.