Aeternus assists Bold People in its sale to industry peer Welten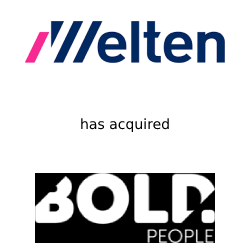 Secondment worker and trainer Welten Groep joins forces with secondment agency Bold People. With the arrival of Bold People, the Welten group grows to more than 800 financial professionals.
For Bold People, the maturity of systems, certified processes and the professionalism of Welten's support departments provide a sustainable boost to the company. With the positions that Welten mediates, a logical and complete career path and attractive future prospects are created for talents. In addition, the in-house training platform Bold gives professionals an extra incentive to get the best out of themselves.
Partly due to the arrival of investor One Two Capital , concrete steps are being taken in Welten's buy & build strategy. The acquisition of Bold People is the next step in the recently announced growth acceleration strategy.
Chris Baelemans , CEO of Welten Groep: "Bold People has been on our list of possible reinforcements for a while. We often serve the same clients and under the inspiring leadership of CEO Heidi Scholtens , Bold People has grown into an attractive recruitment magnet for young financials. With this joining of forces, we offer our clients even more guarantees regarding the influx and sustainable employability of financial talent and we are strengthening our position as a full-service HR partner."
The takeover is a share transaction, whereby Welten Groep will take over 100% of the issued and outstanding shares of Bold People. Bold People was guided in this sales process by Aeternus, our Partner in the Netherlands.
We wish Bold People and Welten every success in further expanding this leading partnership.