Aeternus assists AGEL advisers in sales to Canadian multinational Stantec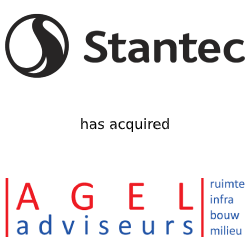 International engineering firm Stantec is expanding its capabilities in the Dutch market with the acquisition of multidisciplinary consultancy AGEL advisers (AGEL) from Oosterhout. Aeternus assisted AGEL advisers in the realization of this transaction.
With the addition of the knowledge and skills of AGEL's 75 employees in the field of spatial development, infrastructure, construction, geodesy and environmental and environmental research, Stantec is taking an important step in its Dutch growth ambitions.
"The merger with AGEL is a valuable extension of Stantec's offering for the Dutch market. The focus on the southwest of the Netherlands and the type of organizations AGEL works with and for, fit in seamlessly with Stantec's work area and our plans for growth in the coming years, "said Pieter van der Zwet, Regional Leader Continental Europe at Stantec. "The combination strengthens our position for further, joint growth, with a broader range of services for our customers in this region and the rest of the country."
"After years of growth, our organization was ready for the next step in development. In Stantec, we have found a partner who gives us the opportunity to grow further and to offer more added value to our customers through a more extensive package of services. Together we will become a truly nationally operating agency, supported by expertise from all over the world, "says Remco van Dessel, Director at AGEL consultants. "It also represents an incredibly exciting opportunity for our colleagues, who will have access to Stantec's worldwide network of experts, knowledge and innovation, to develop further.
About AGEL advisers
AGEL consultants, founded in 1986, has 75 employees and provides consultancy and engineering services for area development, the energy transition and the circular economy. The support of clients can encompass the entire process, from the initial initiative, planning and implementation, to exploitation. AGEL provides a combination of expertise for this, from zoning plans, architectural plan elaboration, demolition preparation and environmental permits, to surveying, GIS, BIM, 3D design, systems engineering, geohydrology and road and sewer reconstructions. AGEL also has many years of experience with environmental studies in the field of soil and remediation, infiltration, acoustics, vibration, air and odor, and external safety.
More about Agel https://www.ageladviseurs.nl/home/
About Stantec
The listed (including Toronto and NYSE) Stantec Inc. is a multinational with approximately € 4.0 billion turnover and 22,000 employees, operating at 350 locations across six continents. The company provides sustainable solutions worldwide for challenges in the living environment. In the Netherlands, they have been providing engineering services and project management for the environment, soil, waste, infrastructure and safety for 35 years. In the Netherlands, Stantec was already located in Arnhem and Delft.
More about Stantec: https://www.stantec.com/nl