A. Jansen can continue its growth thanks to favorable (integral re) financing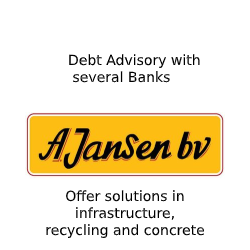 A. Jansen is a group of recycling and construction-related companies, with activities in earth, road and hydraulic engineering, recycling of (construction) waste, production of concrete (goods) and rental of (concrete-related) transport equipment. The company has strong roots in the south of the Netherlands, but also has offices in Amsterdam and Germany.
In recent years, A. Jansen has invested in a Thermal Recycling Installation, which is suitable for processing Tar-containing Asphalt Granules. Partly because of the strong growth of these activities, A. Jansen needed integral refinancing and expansion financing. Aeternus, Eric de Ruijter and Patrick Cox arranged the (re) financing with an in-depth analysis of the company's earnings model and its good knowledge of the financing market.