37th M&A Worldwide Convention
Over 110 M&A professionals gathered in Copenhagen (Denmark) for the 37th M&A Worldwide Convention.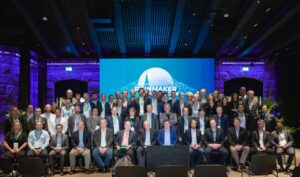 After a long period where people hadn't been able to meet in person, it was a perfect opportunity not only to socialize but more importantly to catch up on the latest business developments and further possibilities for cooperation.
The event combined opportunities for people to have a good time together, discuss internal M&A Worldwide affairs while also attend panel discussions. The organization set up a group of discussions on the future of the M&A industry, the importance of AI / Robotics at the service of M&A, how to finance ESG and the most recent trends across the regions.
The attendees also had the chance to participate in a speed meeting session where dozens of meetings were held. Hopefully, the outcome of these meetings will be excellent deals and future opportunities for all involved.
Over a more private set of sessions, MAWW participants were introduced to our two new members: Kontakt from Iceland and Sigma Catalyst Partners from Greece. Representatives from each company presented their organizations, teams and highlighted their experience.
PYI and ARS Corporate won the Deal of the year while facing stiff competition from Focus Ireland.
Finally, Pathom Yongvanich had the chance to present the 38th M&A Worldwide Convention which will be held in Bangkok on November 16-18 2022.