Rickitt Mitchell advises Xupes on new JV with Chrono24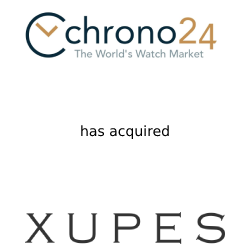 Rickitt Mitchell, our partner in the United Kingdom acted as lead advisor to Xupes in this strategic partnership with the german based Chrono24, owned by the Group  MPN Marketplace Network.  The group owns digital marketplace Chrono24, the German pre-owned watch firm Zeitauktion and online watch magazine Fratello.
Founded in 2009, Xupes facilitates buying, selling, or exchanging luxury pre-owned watches, handbags, and jewellery from the world's leading brands, including Rolex, Omega, Tag Hauer, and Cartier.
Earlier this year, the company featured on Channel 4's 'Second Hand for 50 Grand' documentary, which followed the fortunes of Xupes to show the progression of the pre-owned market. Due to its success with viewers, Channel 4 has now confirmed additional follow-on episodes will be made about the business, set to air next year.
Germany-based Chrono24, a digital marketplace platform for new and pre-owned luxury watches, has raised more than USD118 million from a group of top-shelf investors, putting it at a valuation of more than USD1 billion.
The new partnership will help the companies mitigate some of the challenges posed by post-Brexit legislation to the pre-owned watch market. The combination of companies is set to increase the circulation of pre-owned watches in the UK, isolated from EU countries due to logistical difficulties and changes in the way VAT is charged since the margin scheme was stopped as part of Britain's post-Brexit arrangements.
Joe McKenzie, CEO and co-founder of Xupes, will continue to run operations of the business, now as a part-owner in the new venture. Xupes' handbags and jewellery business will be run independently from watches by co-founder Frank McKenzie, father to Joe, Reece Morgan and Debra Willis. Meanwhile, Xupes Services will remain independent and continue under the same ownership, run by the director of servicing Megan Young, to become the leading service centre for luxury watches in the UK.
Neil Mitchell, Kaine Smith and Charlotte Potts of Rickitt Mitchell provided exclusive financial advisory to Xupes on the joint venture.
McKenzie says: "We worked closely with the Rickitt Mitchell team to enter a strategic partnership with Chrono24. This has enabled Xupes to continue to thrive within a fast-growing market and address the needs of private watch sellers in a challenging post-Brexit market, without having to compromise on our class-leading customer service, product knowledge, quality or reputation. We're incredibly excited to be a part of the Chrono24 family whose culture aligns to our own."
"Throughout the process amid the pandemic, Kaine, Neil and Charlotte's advice, perseverance and dedication helped Xupes with negotiation and due diligence, assisting in the management of existing investor relationships, and generally supporting the management team on all aspects of the deal."
Neil Mitchell, partner at Rickitt Mitchell, says: "Joe and the wider Xupes team have built an impressive business with a highly differentiated, circular economy-based offering in the luxury goods market. This strategic partnership is the natural next step in the evolution of Xupes and will put them on the map globally. We are delighted to have supported them on this journey."
Tim Stracke, co-CEO of Chrono24, says: "We are extremely excited to enter a joint venture with Xupes, so our UK customers can continue using Chrono24 to bring their watches back into circulation. And besides all the synergies, we like working with Joe, who has built an amazing team over the last 12 years."