Radius Payment Solutions has acquired Chargepoint Europe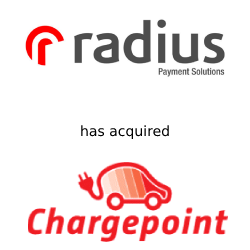 Radius Payment Solutions, a leading global player in payment technology, has acquired a strategic stake in the Gelderland charging station company Chargepoint Europe. Aeternus, our partner of the Netherlands, and M&A Worldwide colleague Rickitt Mitchell from the UK guided the parties in this cross-border deal.
Hans Loohuis, Managing Director of Chargepoint Europe: "This investment from Radius strengthens us. We will work together to accelerate the European transition to sustainable electric mobility. Radius adds unique expertise in scaling and expanding into new international business markets. We are now entering the next growth phase in several countries. This partnership will enable us to grow faster. We also provide even better service for the needs of a wider customer group for smart charging solutions."
Gavin Jones, Head of M&A at Radius Payment Solutions Limited:
"Aeternus & Rickitt Mitchell through M&A Worldwide have played a significant role in supporting our international acquisition strategy, demonstrating deep sector knowledge, excellent local connectivity and an impressively global reach. Their hands-on approach and pragmatic advice make them a pleasure to work with and I'd highly recommend their services for cross-border mandates."
About Chargepoint Europe
Chargepoint Europe is a leading supplier of smart charging solutions for electric vehicles in the European market. Chargepoint has developed a strong program of smart charging points and charging services from Zevenaar. This makes the company successful in the fast-growing electric vehicle charging market. With over 20 years of combined industry experience, the founders have built a significant customer base. Clients include hotel chains, commercial real estate companies, car-sharing operators, colleges and local authorities, both in the Netherlands and in a number of other European countries.
About Radius Payment Solutions
Radius, headquartered in Crewe near Manchester, is a market-leading and innovative company with a strong position in fuel cards, telematics and insurance. It has 23 offices in more than 15 countries worldwide, including a branch in Breda. Radius offers a complete package of products and services for vehicle fleet managers.