Pipevision, LLC & Hoffman Southwest Corp/Orix Capital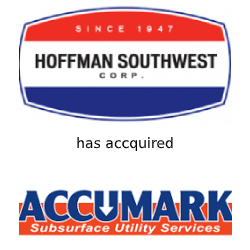 Accumark, Inc., Pipe Vision, LLC, and Benchmark VA LLC Subsurface Utility Services (collectively "Accumark") have been acquired by Hoffman Southwest (HSW), a rapidly growing portfolio company of ORIX Capital Partners, that provides water flow inspection, repair, and cleaning services.
M&A Worldwide Washington represented Accumark, Inc. in this transaction.
Accumark's existing management team, including President Craig Martin, will continue to lead daily operations and provide strategic direction alongside HSW. Accumark has created a loyal customer base throughout Virginia and the Mid-Atlantic region.
"The successful completion of this transaction is a major milestone for Accumark and for me personally.  Joining forces with HSW will allow us to go further than we could alone," Craig Martin said.  He added, "The expertise, guidance, and support the MAWW team provided at every stage of the sale process was tremendous; we couldn't have reached this milestone without them."