MAWW Convention from a STRATEGIC point of view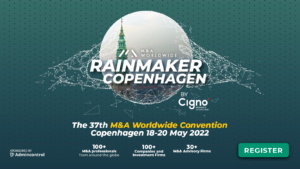 Some of our members have decided to invite clients to come to Copenhagen to join us at the convention.
This event is a unique opportunity to meet 100 plus M&A professionals from numerous geographies alongside investors, bankers, strategic buyers, and corporate guests.
Additionally a great chance to use good quality time to invite clients to join you for sightseeing, a nice dinner at the Tivoli or numerous other experiences to further enhance fruitful connections with them.
Perhaps you are inspired by what other MAWW partners are investing in the convention, by bringing clients with them, and think of this convention from an even more strategic angle. We´ll be happy to support you, help you connect beforehand with the right contacts and ensure you have enough opportunities to make this convention a very profitable one.
Please contact the convention organization (tania@cigno.dk ) or the MAWW staff (delgado@m-a-worldwide.com).
Looking forward to receiving you and your clients in Copenhagen.
Rui Delgado – Executive Director