LINKERS advised the EUROFEU group in the acquisition of AMI2S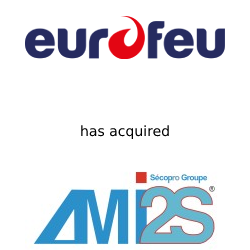 The EUROFEU group, founded in 1972 and managed by Eric Hentgès, produces, markets, and maintains fire safety equipment, in particular fire extinguishers, emergency units, and fire detection and smoke extraction systems.
LINKERS, one of ours Partners in France, advised EUROFEU in the acquisition of AMI2S.
France's leading producer of fire extinguishers, EUROFEU employs 1,500 people divided between its two production sites and its national network of 44 branches. With a turnover of more than 150 million euros in 2021, the Group benefits from a diversified activity serving nearly 180,000 customers and maintains a fleet of around 3.5 million fire safety devices.
AMI2S is the specialist in Fire Safety Systems (SSI)
Founded in 1997 by Farid Bayou, its current CEO, AMI2S specializes in the sale, installation, and maintenance of electronic and fire safety systems.
The Poissy-based company employs more than 70 people, and expects to achieve more than 15 million euros in turnover this year.
This merger with AMI2S is in line with the EUROFEU Group's strategy aimed at strengthening its service offer, particularly in fire detection.
It also allows AMI2S to rely on the national network of EUROFEU agencies to deploy its know-how throughout France.
Eric Hentgès, President of EUROFEU: " We are delighted to welcome the AMI2S teams, with whom we share common values ​​such as quality of service, innovation and the DNA of an entrepreneurial group. We look forward to working with Farid Bayou and all AMI2S employees in order to put our common expertise at the service of our customers throughout France. " 
Farid Bayou, CEO of AMI2S: "This rapprochement between our two teams will make it possible to combine our skills first and foremost in the interest of our customers. New challenges are offered to AMI2S and its collaborators 25 years after its creation. I am proud to support Eric Hentgès and CAPZA in this exceptional project which will give birth to one of the national leaders in the field of fire safety"
CAPZA, has been the majority shareholder of EUROFEU since the LBO of July 2020 already recommended by LINKERS.
The acquisition of AMI2S is the 6th external growth operation after ISOGARD, LOIRE INCENDIE SECURITE, PROTEXFEU, PCI, and VENDEE PROTECTION INCENDIE.
Fabien Bernez, Associate Director Flex Equity, CAPZA: " LINKERS accompanies us in our process of identifying and selecting targets, but above all has made it possible to create the trust and osmosis necessary for the operation to succeed".