Linkers advised LEARNPERFECT, a specialist in Digital Learning, on the sale of their group to NOVA FORMATION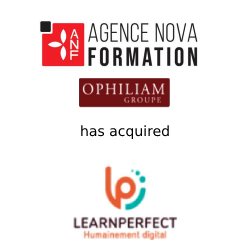 Linkers, one of our Partners in France, advised the founder of LEARNPERFECT, a specialist in Digital Learning, on the sale of their group at NOVA FORMATION, the Training division of the OPHILIAM group. It is a group specialized in virtual classroom training in the field of languages ​​and computer and digital applications.
Native digital, LEARNPERFECT has always developed distance and blended training programs which today give it an undeniable lead. The figures speak for themselves: 40,000 trainees trained, 500 virtual classroom training modules, and hundreds of key account customers, ETIs and SMEs. Created in 2009, NOVA TRAINING is present in 23 cities in France and trains both the general public and professionals.
On the occasion of its integration into the OPHILIAM group in 2018, NOVA FORMATION set itself an objective: to become a leading player in the rapidly expanding Training market. A first external growth operation was carried out in 2021 with Royer Robin Associés, broadening the offer towards training related to the fields of Management-Consulting, HR and Quality.
LEARNPERFECT, whose founder and management team will remain in place, will bring to the new together a significantly expanded training catalogue in the field of languages ​​and computer and digital applications, as well as in-depth expertise and pooled resources in terms of digital learning which will complete the physical locations of NOVA FORMATION in mainland France.
With a balanced distribution between B2B and B2C and very high-quality standards (96% customer satisfaction rate), the group will be able to meet new demands in terms of post-covid training and quickly aim for a turnover of 10 M€.
Stéphane Molinaro, CEO of LEARNPERFECT: "We are delighted to enter a new stage of development with NOVA FORMATION, whose particularly ambitious strategy has seduced us with its relevance. We immediately perceived the many complementarities and synergies that existed between us around digital learning, but above all, it was the professional and human qualities of the group that confirmed our choice."
Frédéric Delfieu, Director at NOVA FORMATION: "In the post-covid era, many people choose to redesign their professional career. In this context, the quality and diversity of learning are essential parameters for developing skills, particularly through distance learning tools. This is why NOVA TRAINING has teamed up with business experts and benefits from the best existing certifications. We are happy with this merger with LEARNPERFECT, which will allow us to strengthen digital learning to make our training courses accessible to as many people as possible".
Arnaud Marchandier, business manager at LINKERS: "LEARNPERFECT is a nugget that aroused a lot of interest among the potential buyers we contacted, but when the company was in the midst of the recruitment phase and the management aspect was therefore decisive, NOVA FORMATION came up with the best project for the company and its team".