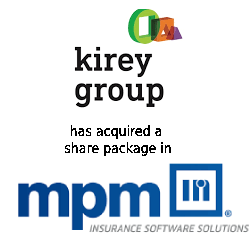 THE KIREY GROUP CONFIRMS ITS PATH OF GROWTH AND EXPANSION IN FOREIGN MARKETS, ACQUIRING A LEADING REALITY IN THE INSURANCE WORLD IN SPAIN AND PORTUGAL
Kirey Group continues its path of Italian and international growth by announcing the entry into the group of MPM Software a leading company in the Iberian market in the offer of technological solutions and services for the insurance world.
Founded in 1990, MPM Software is aimed in particular at insurance brokers, brokers, banking operators, insurance companies in general, and also in the retail sector in terms of insurance distribution. MPM is based in Igualada (Barcelona) and offices in Barcelona, ​​Madrid, and Lisbon.
MPM Software is a leader in the Iberian market with its platform, Visual SEG, an integrated management application, designed to facilitate professional insurance brokerage, customer management, policies and proposals, processing and monitoring of claims and the control of the portfolio and of the income related to the various companies mediated.
MPM Software will allow the Kirey Group to enter the Iberian market, adding to its resources and expertise the strong territorial presence of MPM and exporting its portfolio of solutions dedicated to the banking and insurance market, and also to approach new emerging markets such as that of America Latina (in particular Chile, Colombia, and Mexico), where MPM Software is present with interesting projects and services. MPM will be able to find in the Group the strategic vision and solid experience in the development of international business, an essential aspect for the growth of a company in an increasingly global and demanding context.