Interviewing our recent Partner from Sweden – AHL Partners
We interviewed Andreas Hermansson from AHL Partners to better understand the Swedish market and get an insight into how they work.
They are financial advisors to entrepreneurs, company management and investors in connection with purchasing and selling companies and other situations requiring qualified financial expertise. AHL Partners has extensive Corporate Finance experience and has often helped their clients do better business than they thought possible. The company has offices in Gothenburg and Stockholm.
Market Analysis
Sweden has a long history of entrepreneurship. World famous companies such as IKEA, H&M, Volvo, Spotify and Ericsson were founded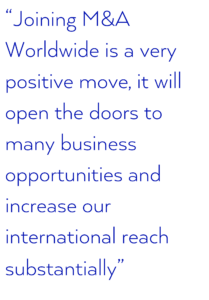 here. The M&A market is active with several transactions of SME companies in the technology, industrial and service sectors. The market is mature in terms of PE funds, and Sweden has a high number of investors considering its size.
The Swedish M&A market has been very active the last 10 years due to extremely low interest rates, which meant there was lots of liquidity in the market, and it was prime for investments. Last year this changed, and the market became tougher. The effects of the Covid backlash have resulted in high inflation rates, leading to high interest rates and increasing costs for financing acquisitions. This is by no means unique to Sweden, but closing deals is now taking longer time than previous years.
Valuations
AHL Partners' deal values vary from SEK 50 million to SEK 250 million with valuation multiples in the range from 5x to 10x EBIT. Sweden is quite a mature and transparent market, and deals are normally closed in this multiple range.
Challenges
Although there are lots of pending and new deals, the challenge is to close the deals faster. Buyers are being more conservative in their risk-taking as the cost of capital increases and macro uncertainty raises.
Preview of the next year:
Overall, the preview is a positive one for the next 12 months. The next six months will probably continue as it is but by 2024 if interest rates decline there will be a much more positive market and more and bigger deals will be available.
Co-operation
For AHL Partners, joining M&A Worldwide is a very positive move expected to provide many business opportunities and increase our international reach substantially. It will facilitate the sharing of relevant mandates and grow relationships with other members. Ultimately it is about helping each other to close deals. The fee-sharing policy is also transparent and fair, this will allow them to pitch on a global level and collaborate and meet potential customers and other members. They are looking forward to attending the Dublin Convention and meeting members in person.
Recent transactions
AHL Partners recently advised Babyshop Group in the E-commerce sector in connection with the change of ownership and an associated capital injection in September 2023.
AHL Partners acted as exclusive financial advisor to the owners of Mastervolt Sweden AB, in the industrial sector, when KAMIC Group acquired the company.
AHL Partners acted as exclusive financial advisor to the owners of Swedspot AB, in the technology sector, when Knowit (publ) acquired the company.