Elma Instruments A/S & A L Laser A/S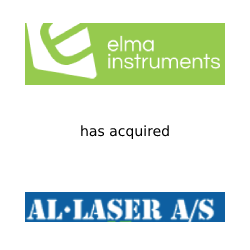 Cigno, our partner in Denmark, advised AL-Laser on the sale to Elma Instruments. By selling the shares to Elma Instruments, Michael Larsen ensures expansion and positive development.
For almost 40 years, AL-Laser has been a professional supplier of i.a. cable and tube finder, inspection TV, laser equipment, and metal finder. Customers include industry, construction industry, and utilities.
For more than 40 years, Elma Instruments has been one of Scandinavia's leading distributors of test and measurement equipment. Like AL-Laser, Elma Instruments is undergoing a very positive development and is constantly expanding. AL-Laser is, therefore, a good match that perfectly complements the Elma Instruments range.
With the combination of Elma Instruments' existing product range and the many new exciting products from AL Laser, we can now offer our customers an even stronger and wider range. All AL Laser's competent employees with Michael Larsen in the lead continue under the new ownership.
Elma Instruments, which has offices in Copenhagen, Oslo, and Stockholm, is part of the Swedish industrial group Indutrade, which sells measuring equipment, high-tech products, and solutions.