DHT, our Norwegian partner, advised the shareholders of Sysint in their sale to the Swedish Mildef Group AB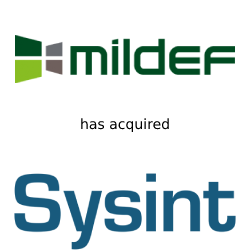 MilDef Group AB (MilDef), a global provider of tactical IT, has entered into an agreement to acquire all the shares in Sysint AS (Sysint). The purpose of the acquisition is to strengthen the customer offering with software solutions and consulting services. In addition, the transaction is part of a strategic expansion plan for MilDef.
Sysint is a Norwegian IT company with 20 years' proven track record from successful digitalization, modernization, and strategic advice for government and industrial customers. The clients are responsible for critical national infrastructure, and Sysint's mission is to support them in achieving their goals. Sysint has 23 employees. The revenues for the financial year 2019 amounted to MNOK 71.5 with an EBIT result of MNOK 3.8 (audited annual report of 2019).
The acquisition of Sysint will give MilDef a strengthened position as a leading provider of tactical IT across hardware, software solutions, and consulting services, contributing to the development of a more complete portfolio that delivers a competitive edge to MilDef's customers. In addition, their position in the important Norwegian market is solidified.
MilDef and Sysint are already working together on key initiatives, such as the OneCIS mobile command information system where Sysint software and MilDef hardware are combined.
MilDef and Systemintegrasjon AS have entered into an agreement regarding MilDef's purchase of all the shares in Sysint. The acquisition will have an impact on MilDef's revenues and results in 2021. At this time, the transaction price is not disclosed.
"Sysint is a trusted company with outstanding reputation on the Norwegian market. We are happy to welcome the team into the MilDef family. The Nordic countries have a clear agenda to increase collaboration, and we support that. In addition, our global presence creates new internationalization opportunities, especially into prioritized EU and NATO markets.", says Björn Karlsson, CEO of MilDef Group.
"Becoming part of the MilDef Group gives both our clients and employees new opportunities. The strong international reach and hardware from MilDef is combined with our local expertise from software solutions and consulting services in Norway. There is great potential for business development and offering of turnkey solutions to secure critical national infrastructure.", says Øystein Western, Managing Director of Sysint.