AutoA A/S & Handicare Auto A/S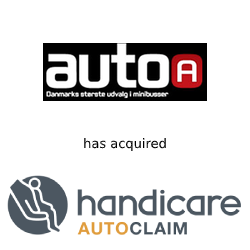 Trade, Construction, modifications, and service of cars/vans for handicap transportation.
1 – 5 m
AutoA A/S has acquired Handicare Auto A/S
Autoa A/S an innovative company specialized in commercial vehicles for people transport. Autoa A/S has established itself as a market leader in their field and ambition is to continue and expand this position.
Handicare Auto A/S Handicare Auto Products have a complete range of solutions for vehicles conversions – including M1 and M2 busses, ambulances, crew cabins, and much more. Our key focuses are to combine safety, flexibility while being exceptionally user-friendly.