Aeternus supervises the international acquisition of Hellebeuk by Buhlmann Group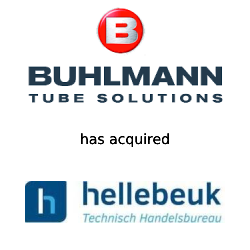 The acquisition of Hellebeuk to Buhlmann Group was completed on April 2. Aeternus guided the Hellebeuk shareholders in the sale process.
Buhlmann will gain a stronger position in the Dutch market with the acquisition of Hellebeuk. Despite the turbulent times, Buhlmann has nevertheless opted to go ahead with the transaction, partly thanks to Hellebeuk's excellent performance, both at the moment and in recent years. Buhlmann and Hellebeuk jointly see many synergy benefits and are therefore looking forward to this great collaboration. Aeternus congratulates Buhlmann and of course Hellebeuk and wishes both parties the best of luck!
About Hellebeuk
Hellebeuk is a technical trade office in stainless steel, a real family business that has been active since 1963. Hellebeuk delivers throughout Europe.
More information: https://www.hellebeuk.nl/
About Buhlmann Group
The BUHLMANN GROUP is a premium trading company for steel pipes, pipe connecting parts and accessories all over the world. It is characterized by quality and worldwide service. The warehouse range, which weighs more than 55,000 tons, extends over nine warehouse locations. All steel pipes and fittings are available in standardized and non-standard wall thicknesses and are seamless and welded in all materials.
More information: https://buhlmann-group.com/