Aeternus assists Frissen Intern Transport with its sale to Logisnext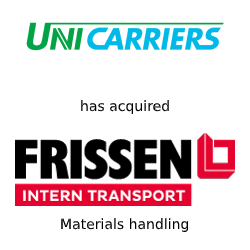 Frissen Intern Transport BV has been taken over by Logisnext Netherlands, known for the brands UniCarriers and Cat © Lift Trucks, on 1 November 2020. Logisnext Netherlands is part of Mitsubishi Logisnext Europe, which in turn is part of Mitsubishi Logisnext Group, active in 79 countries worldwide.
Logisnext and Frissen Intern Transport have been working together for 25 years. By joining forces of Logisnext and Frissen Intern Transport, the combined company is perfectly positioned to serve customers in the South-East of the Netherlands now and in the future.
"Logisnext, specialized in Material Handling solutions, will with this acquisition have an even better coverage in the market in the South of the Netherlands, which contributes to our growth ambitions", said
Erik Koudijs, Managing Director of Logisnext Netherlands BV
George Frissen: "At Frissen Intern Transport, we have always opted to work with strategic partnerships, because that ensures stability. UniCarriers has been such a partner for 25 years. I know UniCarriers as an organization where a lot of knowledge is available, a pleasant culture prevails and where people are central. It is therefore obvious to me that it is precisely this party that will continue Frissen Intern Transport. Customer service requirements will increase in the coming years. I have every confidence that Logisnext / UniCarriers is the right party to give substance to this and thus guarantee the continuity of this financially healthy company as well as employment for the long term. "
About Frissen
The origins of Frissen go back to 1954. A real family business that has undergone modernization under the leadership of George Frissen over the last 34 years. In the 1990s, George Frissen decided to implement a package expansion, including the development of the industry division and the internal transport branch included in it.
More about Frissen https://www.frissen-interntransport.nl/home
About Mitsubishi Logisnext 
Mitsubishi Logisnext Europe (MLE), a member of the global Mitsubishi Logisnext Group, was founded on April 1, 2018, as the holding company of the Mitsubishi Caterpillar Forklift Europe group and UniCarriers Europe group. The group covers the markets in Europe, the CIS, the Middle East and Africa with its own subsidiaries in 10 countries and a dealer network. The group's production and development sites are in Finland, Spain and Sweden.
Logisnext Netherlands is the company behind the UniCarriers and Cat © Lift Trucks brands. It is part of Mitsubishi Logisnext Europe and offers internal transport solutions. This concerns a complete range of forklift and warehouse trucks, AGVs (automatic guided vehicles), warehouse solutions, storage racks, cleaning machines, automatic tractors, and safety products. The logisnext Netherlands works with 200 colleagues from Enschede, Rijswijk, and Venlo every day to jointly serve our customers optimally
More about Logisnext  https://www.logisnext.eu/