Interviewing our recent Partner from Morocco – BV Capital Africa
We interviewed Yann Assor from BV Capital Africa to better understand the Morrocan market and get an insight into how they work.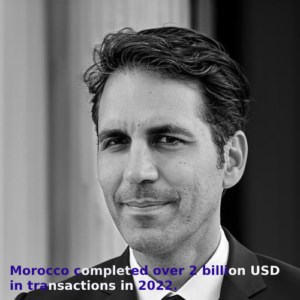 BV Capital Africa is a private M&A firm, member of the Casablanca Finance City community, offering a tailor-made service to family office, local and international group and investment funds in their development strategy in Morocco and West Africa.
BVCA experienced team offers multidisciplinary services (M&A, Fund Raising, Strategy) to companies and investment funds to support their growth operations, regardless of their complexity, size or geographical location in North and West Africa.
Their team is made up of multi-specialist investment bankers who will give BVCA client the benefit of their experience in leading competitive processes, and their expertise in financial engineering supported by strategy experts with strong multi-sector specialization. They are totally committed from the beginning to the end of all projects they are involved in.
Yann has an extensive career in Finance beginning with HSBC and was also a partner at PWC, leading the M&A practice in North and West Africa for 13 years. He has been involved in many cross-border transactions on behalf of large international groups and investment funds.
Market Analysis
Morocco completed over 2 billion USD in transactions in 2022, which proves that they are experiencing high growth in the region.
Morocco is fast becoming one of the best emerging markets for investment in Africa. Over the last decade, Morocco has witnessed an accelerated process of political, economic and social reforms, and its steady economic growth and strategic geographic position make it an investment opportunity well worth considering.
Faced with a challenging international and regional environment, Morocco has proved its resilience with a GDP which has tripled over the last 20 years, with a stable inflation rate maintained under 2% since 2010.
The modern legal and regulatory framework implemented by Morocco, created a particularly attractive environment for investors with:
More than 50 free trade agreements with the major African countries, United States, UAE Turkey and a highly competitive preferred agreement with Europe (no customs tax between Morocco and the European countries)
No restriction on capital – Free repatriation of profits and capital for foreign companies
World-class infrastructure and qualified labour force
Legal framework and assistance measures that are very favourable to investors
Dedicated industrial zones across the country among which free zones offering numerous advantages and local integration (119 industrial zones, 10 000 industrial operators)
Valuations
BV Capital Africa Multiples 7-9 EBITDA, there are no multiples of 18-19 for example. They also acknowledge that it is a maturing market and that there is a lot of scope for growth in the future.
Challenges
A challenge is to identify medium-market companies worth 40 – 50 million euros company. There is not much data so you have to use your network to identify potential clients. The market in North and West Africa is not as mature as it is in Europe for example. Moroccan groups and investment funds systematically call on M&A consultants as part of their strategic projects. The latter are highly fragmented. The distinction is made by the level of sophistication of the M&A teams and by the development of a qualitative network at both national and international levels.
Cooperation
Joining M&A Worldwide is key to BVCA' growth strategy, using the network to leverage interest in Morocco will help them grow while also offering the possibility of other members to present M&A opportunities in North and West Africa to their clients interested in expanding in the region. BVCA's M&A sale mandates present opportunities in terms of size and entry into the Moroccan market for large SMEs and foreign groups in various sectors such as energy, industry, consumer goods and healthcare. They look forward to a long and fruitful relationship in the future.
Recent Transactions
BV CAPITAL AFRICA team was involved in a recent significant deal flow:
BVCA acted as exclusive advisor to the Holmarcom Group (second largest family group in Morocco) in raising €100m euros from IFC to support their development plan in the insurance sector in Africa.
BVCA acted as exclusive advisor of the international dialysis group Diaverum for their acquisitions in Morocco. BVCA assisted the group for the acquisition of three dialysis centers in Morocco (Total Deal Value  €35m).
BVCA was also involved in the selling of a restaurant chain, a high-end luxury group which was sold to the Singaporean group, V3 Fund (Deal Value €50 m).
BVCA advised the international group Transmed in the acquisition of the leading food distribution company, Jessy Diffusion (Deal Value €30 m).