Interviewing our member LINKERS about a great deal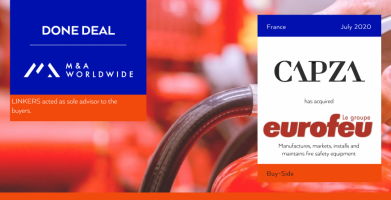 Could you tell us the story behind this deal? What was the rationale? Also, how Linkers was involved in the process, was it already a client?
Over the last few years, LINKERS has regularly been in contact with EUROFEU Group to discuss a potential sale of the group, either to industrial counterparts or via an LBO.
But no mandate has been given by the founders and shareholders.
On the other hand, LINKERS was in contact with Eric Hentges, an experienced manager in the Security sector. Eric had the objective to buy a company and the legitimacy to be the leader in an LBO transaction with a Private Equity Fund.
As we thought that the shareholders would never give a mandate, we decided to prepare a preemptive offer with Eric and Private Equity Funds. We launched a process to select the best Private Equity Fund for the context. CAPZA was the winner of this process as their financial offer was attractive but mainly because they shared Eric's vision about the project, a growth project based on the current organization of the group including all the employees, while the founder did not want to deal with industrial counterparts that could close the existing production facilities.
LINKERS acted as a real dealmaker, building a win-win-win project in line with the goals of the founders, Eric Hentges and CAPZA, from scratch.
With this new management structure, do you think that Le Groupe Eurofeu is now more prepared for the changes that are coming soon?
The new management brings strength to giving EUROFEU's employees a long-term vision and employee safety, in a company where the transition of the "Patriarchy" was an issue.
At the same time, we can underline a team spirit continuity, because of almost all the executives of the group is shareholders of the Holding.
Eric Hentges is also the perfect asset to combine organic growth and external growth as he was the M&A Managing Director of a huge American Group.
 In which way did the MAWW membership add value to the process?
For this Franco-French deal, the main MAWW membership advantage was the legitimacy to work on a 100 million deal.