Infraneo has acquired Martim Gmbh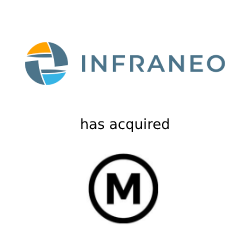 INFRANEO, an engineering group specializing in asset management infrastructure, announces the acquisition of Martin GmbH, a company specializing in pipeline corrosion protection systems, based in Hattingen, Germany.
One month after the acquisition of the Esiris group, INFRANEO carries out its 3rd operation of external growth since the arrival of Sparring Capital as the majority shareholder.
Founded in 1970, Martin GmbH is a German design office dedicated to anti-corrosion systems, which supports its customers in the protection of their pipelines. The company, which has an excellent reputation, provides inspection and supervision services to public energy and water management institutions as well as companies industrial and petrochemical.
Martin GmbH, with 45 employees whose technical skills are recognized in Germany and Europe bring essential expertise to the world of energy. The company has also been able to gradually expand its offer and its customer portfolio and identified promising growth drivers for the coming years.
Thanks to this transaction, INFRANEO is establishing itself in Germany in a niche market benefiting from good growth prospects. After the opening of offices in Belgium and in Spain, the INFRANEO group, which now generates nearly € 50 million in turnover, is accelerating its European development and thus consolidates its leadership position in the engineering of soils, the water cycle, buildings and mobility and energy infrastructure.
The Martin GmbH team will be led by Nicolas Martin, based in Hattingen.
Bruce Xiste, President of INFRANEO, said: "Already present in Belgium and Spain with the opening of local branches, the group is accelerating its European development with the acquisition of Martin GmbH. This merger provides INFRANEO with expertise complementary to the dynamic energy infrastructure market in Germany. "
Nicolas Martin, CEO of Martin GmbH, says: "We are happy to be part of the INFRANEO group. The two companies share the same values, namely teams competent and recognized by their clients, agile management and expertise in their technical trades. "
Dieter Martin, President of Martin GmbH, adds: "I am glad to know the company family is in good hands and I am sure of positive development. The fact of being able to offer our quality standards and reliability as a member of the INFRANEO group is a good signal for our employees and our customers.