DHT Corporate Finance advised Lekekassen Holding AS on the sale to Europris ASA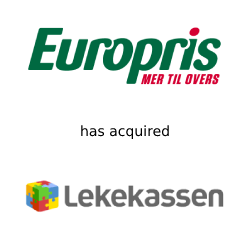 DHT Corporate Services, our M&A Worldwide Partner in Norway, has been the financial adviser for Lekekassen for the sale to Europris.
Europris is acquiring 67 per cent of Lekekassen Holding AS (Lekekassen) – Norway's largest player in online shopping for toys – for NOK 501 million. Through this acquisition, the company will be entering a strategically important product category that is growing rapidly online, as well as further strengthening its expertise in e-commerce.
The agreed purchase price is final, and the acquisition will be settled in cash.
Europris has a pre-emptive right to acquire the remaining shares in  Lekekassen.
Lekekassen is one of the fastest-growing online retailers in Norway, with almost 10,000 products online. It achieved total revenues of NOK 545 million and EBITDA of NOK 94 million in 2020, and both revenues and earnings have continued to grow in 2021. Lekekassen entered the Swedish market with the ToySpace.se brand in 2019, reaching revenues of approximately NOK 100 million in 2020.
The excellent performance of the Lekekassen technology platform makes the online toy store a highly scalable business, and Europris also sees the potential to develop improved digital customer solutions faster and more cost-effectively on this platform.
Espen Eldal, CEO of Europris, comments: "We are very enthusiastic about the acquisition of Norway's largest online toy store and its strong e-commerce organisation. Toys represent a clear growth category for Europris, and Lekekassen's products will contribute to higher growth and a better customer experience in our stores. In addition, we see the opportunity for significant synergies through joint purchasing of goods and services."
Lekekassen was established in 1945 by the Skalleberg family in Grimstad in the Aust-Agder county. The business consisted exclusively of physical retail stores until 2013 when the Lekekassen.no e-commerce business was established. This was named "Newcomer of the Year" by Prisjakt.no,  Norway's leading consumer product comparison service, in its first year of operation, and has maintained its strong position with consumers ever since.
Andreas Skalleberg, CEO of Lekekassen, comments: "We have been proud retailers for generations, but we recently started a search for an industrial partner who can support further development and expansion of our family business. We have connected well with the Europris team and their corporate culture, and we are very pleased to team up with them. We look forward to continuing to grow our business across Scandinavia as we join forces with
Norway's largest and most successful discount variety retailer."
Lekekassen has a strong management team in place, and Andreas Skalleberg will remain CEO and owner of 33 per cent of Lekekassen. Espen Eldal will take on the position of chair of the board.
About Europris:
Europris is Norway's largest discount variety retailer by sales. The group
offers its customers a broad range of quality own brands and brand-name
merchandise. Its merchandise is sold through the Europris chain, which consists of a network of 268 stores throughout Norway. Of these, 240 are directly operated by the group and 28 operate as franchise stores. The group's
headquarters are located in Fredrikstad, Norway.
About Lekekassen:
Lekekassen (The Toy Box) is owned by the family business Leif Skalleberg AS in Grimstad in the Aust-Agder county and was originally founded by Leif Skalleberg.
The Skalleberg family have been merchants for almost 80 years. Andreas
Skalleberg is the third generation to manage the business, taking over from his father Torbjørn. Lekekassen is Norway's largest toy store and one of the
country's fastest-growing e-commerce players. The independent business carries many well-known brands at low prices and is today Norway's largest retailer of Lego. Since its online establishment in 2013, Lekekassen.no has been growing rapidly. The group has just expanded its fulfilment centre in Grimstad (capacity 21,000 m[2]) and is planning a further geographical expansion into Denmark in the fourth quarter of 2021 (ToySpace.dk).