Consortium of investors (funds/banks) & Phyre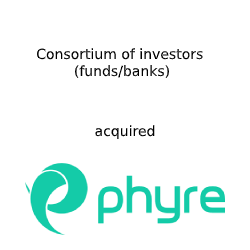 About Phyre:
The idea of phyre was born back in 2015. A banal everyday event with a forgotten wallet and a lack of cash crystallised in time – we set a goal to make space in our wallets (why not completely get rid of them) by transforming all the cards that we own in virtual ones.
‍
After a lot of hard work, energy, small failures, big victories and great lessons learned along the way, in 2018 we got to the phyre version you are currently using. This was the tipping point when our smartphones turned into the better wallets.
‍
At the beginning of 2019, phyre is already actively being used by tens of thousands of people, and we strive to be flexible and grow the service according to your financial needs.