AV Online has been acquired by the retailer Gear4Music Ltd.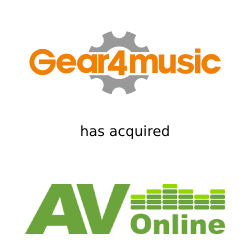 Rickitt Mitchell, our M&A Worldwide Partner in the United Kingdom, is delighted to have led on the sale of AV Online – a seller of audio-visual equipment, including home cinema systems, Hi-Fi systems and accessories – to online music equipment retailer Gear4Music Ltd.
Online music equipment retailer Gear4music has bought AV Online and its website for £9.2m.
The deal expands Gear4music's offer into the AV market, where it will compete against high-street retailers including Richer Sounds.
AV Online sells audio-visual equipment, including home cinema systems, hifi systems and accessories, from its base in Bacup, Lancashire.
It was founded in 2003 by Carl Pickles and now has 21 staff, with the vast majority of its sales coming online from its own websites and Amazon.
York-based Gear4music believes it can "quickly grow" revenues and profits by moving the business onto Gear4music's highly scalable bespoke e-commerce platform, rebranding the business to AV.com, developing its product ranges, and expanding into Europe.
AV Online already had a big increase in revenues in the year to March, up 54% to £8.6m, with pre-tax profits trebling to £1.2m.
Gear4music's chief executive Andrew Wass said: "Operating in a £400m UK audio video market that is currently dominated by high-street based retailers, the board believes that AV Online will greatly benefit from being transferred onto the group's highly scalable European e-commerce platform and being rebranded to 'AV.com'."
Gear4music will pay £6.2m for AV Online – which includes £2.5m of inventory and a warehouse valued at £1.3m – and £3.0m in a separate deal for the AV.com domain name, which wasn't owned by the company.
The deal will be funded from Gear4music's £35m Revolving Credit Facility with HSBC.
Specialist lawyers from Walker Morris have advised long-standing client, Gear4music.
Corporate partner Richard Naish, who led a multidisciplinary team from Walker Morris, said: "We've worked closely with Gear4music over a number of years having advised it taking private equity investment, its AIM IIPO in 2015 and since then on a number of fundraisings and acquisitions. Gear4music is the UK's largest retailer of musical instruments and music equipment, having grown revenues from £24m in 2015 to £120m in 2020, and will significantly increase the Group's addressable market."
Neil Mitchell and Charlotte Potts from Rickitt Mitchell provided corporate finance advice and Mark Winthorpe and Andrew Walsh from Pannone Corporate provided legal advice to Carl Pickles.
Neil Mitchell, partner at Rickitt Mitchell, added: "He has created a specialist and high quality business that has been on an exciting journey to date. The acquisition of AV Online and subsequent acquisition of the AV.com domain gives Gear4Music a real opportunity to further develop its reach in the AV market across key European territories."