Aeternus assists Dutch software companies with sales to a German IT service provider
\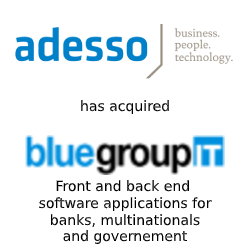 The German listed company Adesso has acquired a majority stake in three Dutch software development companies. Aeternus assisted the companies Blue4IT, Codesquad, and Bluefront that were part of Blue Group IT in the realization of this transaction.
The companies focus on the development of front and back end software applications for banks, various multinationals, and government institutions, among others. The managing directors of Blue4IT, Codesquad, and Bluefront will continue to be involved with a minority stake.
With the acquisition of Blue4IT, Codesquad, and Bluefront, Adesso wants to further strengthen its position in the Dutch IT market. The three companies are fully specialized in front-end, back-end, and architecture with Java. This joining of forces between Adesso and Blue4IT, Codesquad and Bluefront provide an excellent collaboration in which both parties can benefit from each other's knowledge and expertise.
About Blue4IT, Codesquad and Bluefront (which were part of Blue Group IT)
Joining forces creates added value in the IT world. Because ICT processes are always interconnected, an unambiguous vision is crucial.
Specialist in Java
Blue4IT is a supplier of high-quality services in the field of Java development and architecture.
Passion for JAVA / JVM PLATFORM
CodeSquad offers experienced and ambitious software developers with a passion for the Java / JVM platform.
Frontend development
Bluefront offers premium frontend development services for ambitious organizations.
More about Blue Group IT https://www.bluegroup-it.nl/
About Adesso
Adesso was founded in Dortmund in 1997 and has grown into an international IT services provider over the past 20 years. The German listed company has more than 4,200 employees and had a turnover of 449.7 million euros in 2019. From locations across Europe and beyond, Adesso offers consulting and software development services to optimize business processes and thus reduce costs.
More about Adesso https://www.adesso.de/en/index.jsp