Aeternus assisted the owners of Willems Bouwbedrijf with the sale to Ballast Nedam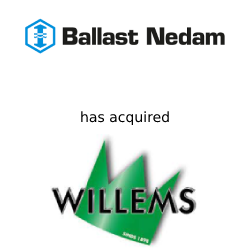 Ballast Nedam and Willems Bouwbedrijf BV signed the purchase agreement on the 9 of November under which Ballast Nedam will acquire the shares in Willems Bouwbedrijf. The construction company based in Venlo will be added as an independent company to Ballast Nedam's broad portfolio and will be placed under the name 'Willems Bouwbedrijf BV' under Laudy Groep BV, just like Laudy Bouw & Ontwikkeling BV and Laudy Vastgoedontwikkeling BV.
Aeternus, our Partner in The Netherlands, acted as the advisor of Willems.
The takeover is a combination of forces and a convergence of supply and demand. Willems Bouwbedrijf BV was looking for a future-proof party to take over and Ballast Nedam was looking for healthy growth. The perfect match, all the more so because both companies focus on the customer and the employee.The basic principle of this takeover is that Willems Bouwbedrijf will continue to operate in its current working area as an independent operating company under its own name with its own culture and existing management in the future. From its current location in Venlo.
Confidence in the collaboration
Willems Bouwbedrijf is a real family business, with fifty employees and more than 120 years of experience in non-residential construction. "The company has been in the family for five generations, which makes it difficult to find a suitable partner to entrust your business to if there is no succession in the family," said Joep Willems, Director Willems Bouwbedrijf. "A culture like ours prevails within Ballast Nedam's regional construction companies. There are short lines, everyone knows each other and we are close to the customer. We are therefore a good fit to continue working together in the future."
The acquisition is also a great solution for Ballast Nedam to enable further growth in the region. Raymond Veugelers, Managing Director Laudy Groep BV: "The acquisition by Laudy Groep BV is a choice that fits within the growth strategy of our company. We are looking for further diversification. Willems Bouwbedrijf fits this profile because, in addition to carrying out regular construction projects, it is a specialist in the non-residential construction market for SMEs and distribution centers. In addition, Willems Bouwbedrijf recently acquired its own healthcare concept Domi Curae, a very successful concept in which knowledge of healthcare is translated in an architecturally smart way into a unique building solution for the healthcare sector."
Veugelers continues: "Willems Bouwbedrijf is mainly active in Limburg, East Brabant and Gelderland. In this way, we can increase our reach in the south of the Netherlands and it is a beautiful transport corridor for the Venlo-Düsseldorf route. We are convinced that they are an excellent match and we are looking forward to a great collaboration." 
Entrepreneurship and personal contact
The combination of the two companies will bring the service to clients to an even higher level. The new combination also offers employees numerous opportunities, because it creates a broader basis for development and specialization.
Willems further explains: "Both companies have an entrepreneurial spirit and understand the importance of being close to the market and knowing their own customers. The local approach is aimed at autonomy, whereby short lines of communication, accessibility, personal contact and a 'feeling at home' are important. That creates a good bond and ultimately a good result."
In the coming months, the collaboration will be further explored and opportunities for knowledge sharing will be explored. The acquisition will be submitted for approval to the Netherlands Authority for Consumers & Markets.