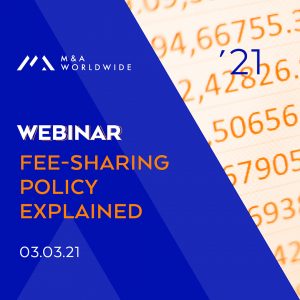 Fee sharing has been reviewed as part of the increased focus on generating more deal flow between members. The approach has been to consider the interests of all members.
Meaningful support carries an expectation of fee sharing and we want to ensure that the right balance is struck between the interests of the member asking for support and the member being asked to help.
Fee sharing occurs in three main ways:
Where a direct introduction leads to a new client for another member
Where a member has a mandate and requests support to deliver the mandate
Where members work together to enhance their chances of winning a new client
This webinar will provide an insightful and practical view on how to deal with the new Fee-Sharing policy.
Jordi Blasco, M&A Worldwide Secretary and Board Member will be the Speaker in this Webinar.
Next Webinars:
– 17 March | SPACs & the new era of acquisitions | Speaker: Sergio Camarero
– 31 March | Increasing Search Effectiveness | Jacques Jetten & Nitin Arora